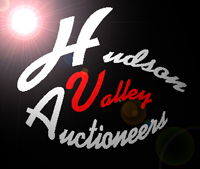 Weekly Auctions of Exceptional Items
Upcoming Auctions
Reviews
Past Auctions
Record Results
Upcoming Auctions from Hudson Valley Auctioneers LLC Beacon NY
Hudson Valley Auctioneers LLC Beacon NY has no upcoming auctions.

Follow this

auctioneer to hear about new auctions.
Bidder Reviews for Hudson Valley Auctioneers LLC Beacon NY (163)
8 Latest ReviewsSee All
Unique items and great prices!
My wife and I own a small business refurbishing furniture from the past. We shop all over New England in order to find great pieces at great prices. Hudson Valley Auctioneers always has very interesting and unique pieces at great prices and we have purchased things at auction at least a dozen times. Knowledgeable, helpful, friendly, communicative and easy going staff. I am always thrilled to pick up from them! I highly recommend them!
James
Port Monmouth, New Jersey