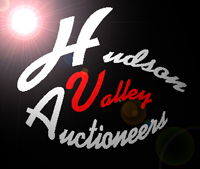 Weekly Auctions of Exceptional Items
Upcoming Auctions
Reviews
Past Auctions
Record Results
Upcoming Auctions from Hudson Valley Auctioneers LLC Beacon NY
Bidder Reviews for Hudson Valley Auctioneers LLC Beacon NY (235)
8 Latest ReviewsSee All
Good transaction, very communicative guys. Will do business again.
I arranged to pick up in person and my communication thread was very timely. They called me with specifics and to consult on bad weather contingency plans. Only item that surprised me was one of the lead crystal ink wells had a crack/chip which wasn't clearly visible in photos or disclosed but the lot was priced accordingly for that fault. Will def be looking for future auctions from this house.
Denise
Hingham, Massachusetts
Accurate lot description
Couldn't be more pleased. I used AccuPrint for shipment. Excellent experience. Would purchase again from the house without reservation.
Very Reliable
If you are lucky enough to have a winning bid with Flannery's, you can rest assured the remainder of the process will be smooth and pleasant.
Organized.
Making pick-up arrangements was easy. Items were ready to go and I got help loading them into my car parked right in front. It just took a few minutes.
Kamran
Fairfield, Connecticut
Highest Regards
The gentleman who represents this auction house was a complete pleasure to do business with. When I needed more time to pick up my purchase he was very understanding. I loved my purchase when I received it. He even delivered it to the shipping company. I can't say enough good things about this company. Yours, Arthur